Are you considering Knee Replacement Surgery?
Any surgery is a big decision, but for those who have suffered with constant pain in their joints, replacement surgery is a valid option. Usually recommended for long-term sufferers of knee joint pain, it is usually necessary when a health condition or injury affects the normal functions of the knee joint. Reduced mobility, pain whilst resting, and difficulty when moving are all signs that the knee joint isn't fully operational. When the surface of the Knee joint is worn away, at a certain point in time walking and activities of daily living become very difficult. Standardized treatment such as weight loss, anti-inflammatory medication, braces, orthotics, steroid injections, physical therapy, etc. are all tried first, to evaluate how the symptoms have improved. In many cases, however, despite the above non-surgical treatments, functional limitations persist.
Why consider Knee Replacement Surgery?
Most people who are considering knee replacement are limited to walking less than three to six blocks, or less than 15 to 20 minutes. They have difficult time getting up out of a chair, and experience pain whilst resting. They are taking anti-inflammatory medication and/or pain medicine on a regular basis and the pain is generally progressive. With further consultation from your GP, Knee Replacement Surgery may be offered to you as a solution to your health problems. Knee replacement surgery is usually necessary when a health condition or injury disrupts the normal working of the knee joint so your mobility is severely reduced, and you experience pain even while resting. Conditions such as Osteoarthritis affect the surface of the Knee. Pain and difficulty moving the knee joint is commonly caused when the articular cartilage has become damaged or worn away. This means that the ends of the bones start to rub or grind together instead of smoothly sliding over each other. Systemic arthritis such as rheumatoid arthritis or gout affects the synovium (the membrane tissue in the joint that normally lubricates the joint), becomes pathologic and the surface of the joint is destroyed. Replacing the damaged knee joint with an artificial one can help reduce pain and increase mobility.
What is Knee Replacement Surgery?
Knee replacement surgery is a medical intervention to replace a damaged or worn knee joint with an artificial joint. This type of surgery is 'arthroplasty', the medical term for this kind of surgery. Knee replacement surgery (arthroplasty) aims to relieve knee pain and improve movement. Depending on the condition of the knee, there are two kinds of operation offered - Total knee replacement if the whole of the knee joint is damaged, or Half knee replacement is sometimes carried out if one part of the knee joint needs to be replaced. Knee replacement surgery is now as common as hip replacement surgery, with over 70,000 knee replacements carried out in England and Wales during 2007. Although the replacement knee will not last forever, an artificial knee will probably last at least 10-15 years, depending on how active you are and the type of replacement you have.
More Information about Knee Replacement Surgery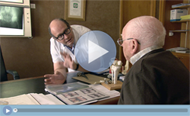 Click the video above to see how Operation France helped arrange a hip replacement for Dennis Comey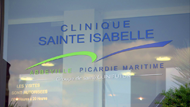 Clinique Sainte Isabelle, situated in Abbeville, France - only an hour travelling into France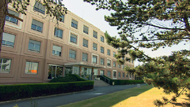 Clinique Sainte Isabelle has two hotels on the hospital grounds - a popular choice for patients, and their families & friends to stay close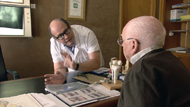 The world renowned surgeon Dr Renaux specialises in Orthapedic Surgery and experienced in providing treatment for British patients