The Clinique – Sainte Isabelle
Clinique Sainte Isabelle first opened its doors in 1997. Situated in the beautiful area of Abbeville, France the clinique is perfectly located for UK visitors. It boasts two hotels within the clinic's grounds, making it a popular choice for patients and families and friends who wish to accompany them and assist with their rehabilitation.
Within the clinique, the surgical unit is comprised of 80 beds divided into individual rooms, or 2-bed rooms with private toilets, telephone and colour television, as well as more than a dozen mobile surgical units. There are 6 operating rooms, and a recovery room - allowing for the highest level of care and surveillance while you 'come round'. All facilities meet extremely stringent health and safety criteria and the medical equipment is state-of-the-art.
The Surgeon - Dr Philippe Renaux
Dr Philippe Renaux has worked in America and Japan but is currently employed full-time in joint replacement surgery at the Clinique Sainte Isabelle in Abbeville. He was made an honorary NHS consultant by the Thames Valley Strategic Health Authority following surgery on the 30 patients from Reading in 2003. He has many years in Orthapedic Surgery and experienced in providing treatment for British patients, and has received many favourable reviews which can be read in the
Testimonials
section of this website.
Pre Admission Form
To undergo surgery at Sainte Isabelle, you need to complete the pre admission file. Download and fill out the short form, and send to info@operation-france.co.uk.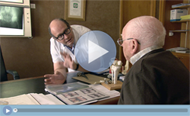 Click the video above to see how Operation France helped arrange a hip replacement for Dennis Comey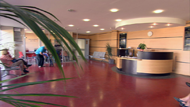 The high quality, clean clinic reception at the french orthopedic surgery, Clinique Sainte Isabelle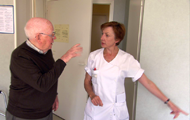 Professional friendly English-speaking nurses at the Clinique Sainte Isabelle make patients comfortable prior to surgery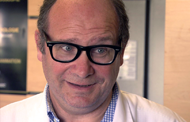 Operations performed by Orthopaedic surgeon Dr. Renaux - well known & accomplished surgeon specialising in prosthetic orthopaedic surgery